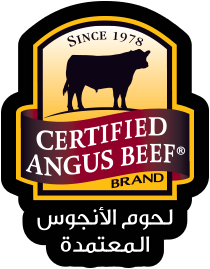 Cooking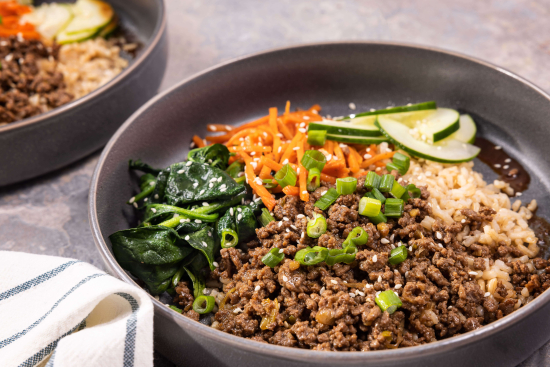 Ground beef, Korean flavors and fresh vegetables make you a dinnertime hero. This recipe is quick, healthy and delicious. Serve with brown rice or to increase veggie intake, cauliflower rice. Cook the rice while building the bowl and you'll have dinner on the table in thirty minutes.
| PREP TIME | OTHER TIME | COOK TIME | TOTAL TIME |
| --- | --- | --- | --- |
| 10 mins | 5 mins | 20 mins | 35 mins |
INGREDIENTS:
1 pound Certified Angus Beef ® ground beef, 90% lean

1 teaspoon canola oil

1 tablespoon minced garlic

1 tablespoon minced ginger

4 scallions, whites and greens separated, sliced

1 tablespoon plus 1 teaspoon sesame oil, separated

1/3 cup low-sodium soy sauce

1/3 cup plus 1 tablespoon brown sugar, separated

3 tablespoons rice vinegar, divided

1/2 teaspoon kosher salt

5 ounces baby spinach

2 cups (approx. 5 ounces) matchstick carrots

24 cucumber slices

2 cups cooked brown rice (3/4 cup raw)

1 tablespoon sesame seeds (optional)
INSTRUCTIONS:
Heat canola oil in a 12-inch skillet over medium-high heat. Add ground beef to pan in an even layer; brown 3 to 4 minutes. With a slotted spoon, break up ground beef; mix in garlic, ginger and scallion whites. Sear 3 more minutes or until no pink remains.
Stir in 1-tablespoon sesame oil, soy sauce, 1/3-cup brown sugar and 2-tablespoons rice vinegar. Bring to a simmer for 3 minutes, evaporating excess liquid and concentrating the flavors.
Using a slotted spoon, transfer all seasoned beef from pan to clean bowl, leaving liquid in pan. Add spinach and remaining 1-teaspoon sesame oil. Toss with tongs about 2 minutes until wilted; transfer to clean bowl and keep warm.
Make glazed carrots in the hot pan by adding carrots, salt, remaining 1-tablespoon rice vinegar, remaining 1-tablespoon brown sugar and 2-tablespoons water. Constantly stir to dissolve sugar and coat carrots, 2 to 3 minutes, just long enough to warm carrots through and reduce liquid to a thin glaze. Turn off heat; keep warm.
Build each bowl with cooked brown rice, seasoned beef, spinach and carrots. Add cold slices of cucumber to bowl; garnish with scallion greens and sesame seeds.
AUTHOR:
Certified Angus Beef ® Test Kitchen
KEYWORDS:
recipe, and rice, how to make, easy, with veggies
OTHER RECIPES USING THIS CUT