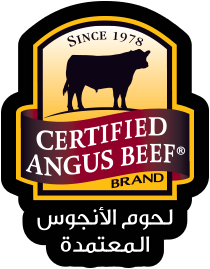 Cooking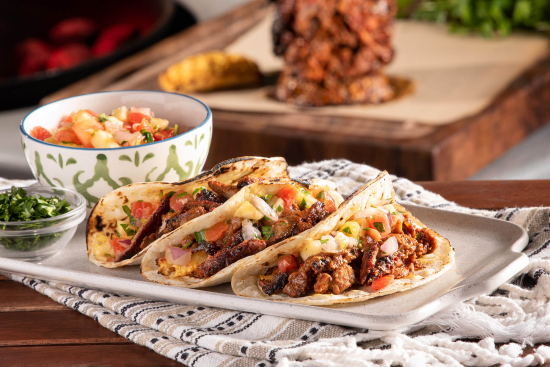 Middle Eastern spices and Central Mexican street fare combine for a flavorful taco. The rich, beefy flavor of a chuck roast is a bold choice. A Weber® charcoal kettle grill and 10 to12 inch skewers mimic the vertical rotisserie of traditional al pastor.
| PREP TIME | OTHER TIME | COOK TIME | TOTAL TIME |
| --- | --- | --- | --- |
| 10 mins | 12 hr 0 mins | 1 hr 30 mins | 13 hr 40 mins |
INGREDIENTS:
2 1/2 pounds Certified Angus Beef ® chuck roast
6 dried guajillo peppers
3/4 cup pineapple juice
1/2 cup orange juice
1/4 cup cider vinegar
6 cloves garlic
2 tablespoons achiote powder (also known as annatto)
1 tablespoon coarse kosher salt
2 teaspoons black pepper
2 teaspoons cinnamon
2 teaspoons cumin
2 teaspoons dried oregano
1 whole ripe pineapple
2 cups pico de gallo
16 small corn tortillas
2 cups fresh cilantro leaves, stems removed
INSTRUCTIONS:
Bring 1 quart water to a boil, add guajillo peppers, cover, remove from heat; steep 10 minutes. Remove peppers from water (reserving water), discard stems and seeds, cut peppers into large pieces and place in blender. Add pineapple juice, orange juice, cider vinegar, garlic, achiote, salt, pepper, cinnamon, cumin and oregano. Blend on high speed to a smooth pourable consistency, blending in reserved chili water only if needed. Refrigerate to cool.
Cut chuck roast in half then cut each piece thinly across the grain into 1/4-inch thick slices, trimming any larger fat away. Place slices in a gallon zipper-locking plastic bag, add marinade, secure bag and work slices around to coat completely; marinate refrigerated overnight.
Cut top and bottom off of pineapple (keep bottom for al pastor build). With a sharp knife, remove outer skin of pineapple and quarter lengthwise; save one quarter for another use. Remove core from three quarters and set one aside for topping beef tower. Cut remaining two quarters into 1/4 to 1/2-inch cubes. Combine with pico de gallo and keep refrigerated.
To prepare beef tower place bottom of pineapple on a sheet tray, cut side down. Push the non-pointed end of the skewer directly in the middle of the pineapple so skewer stands straight up. Stack marinated beef slices by piercing over pointed top of skewer and guiding to pineapple base. Continue to stack slices with the footprint of the base, bringing the al pastor sauce with them, to form a conical shape. Cut pineapple quarter in half and skewer criss-crossed on top of beef,
Prepare the kettle grill. Fill a chimney starter to the top with charcoal. Heat until coals begin to ash over and smoke runs clear. Remove the top grate of grill and pour the hot coals around the circumference of the lower grate forming a ring of coals against the wall of the grill; cover 5 minutes, targeting 400°F grill temperature.
Slide a sturdy spatula under the pineapple base of cone and carefully lift and place in the center of the ring of coals. Place lid on grill (top grate will not be used). Roast 1 1/2 hours or until 150°F internal temperature (using a probe thermometer in the thickest part of the cone, near skewer).
Remove tower from grill, set on a cutting board and remove pineapple bottom (discard); remove and save roasted pineapple top pieces for garnishing tacos.
While holding top of skewer slice meat thinly from top of cone downward, working around the exterior. Build tacos by placing sliced beef on tortillas, top with pineapple pico de gallo and garnish with a slice of roasted pineapple and cilantro leaves.
AUTHOR:
Certified Angus Beef ® brand Test Kitchen
KEYWORDS:
tacos al pastor recipe, beef taco recipe, recipe, meat, what is al pastor, what are tacos al pastor, how to make al pastor at home, al pastor marinade
OTHER RECIPES USING THIS CUT