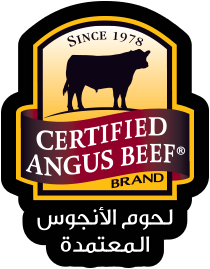 Cooking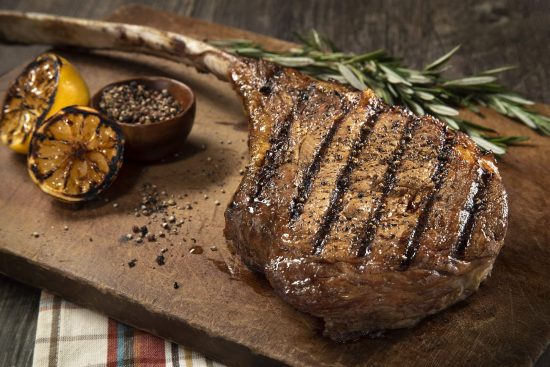 A ceramic grill holds its temperature. These grills are ideal for large steaks like the long-bone ribeye. When you slowly bring the steak to temperature, you can easily achieve a perfect medium rare. Coals and wood chunks impart a smokey flavour. Reverse sear for edge-to-edge doneness. Although these instructions are specific to a ceramic grill, this technique can be done on a gas or conventional charcoal grill. Tip: Use a probe thermometer.
| PREP TIME | OTHER TIME | COOK TIME | TOTAL TIME |
| --- | --- | --- | --- |
| 5 mins | 12 hr 20 mins | 1 hr 10 mins | 13 hr 35 mins |
INGREDIENTS:
1 1-1.2 kg (2 to 2.5 lb) Certified Angus Beef ® tomahawk ribeye
15 ml (1 tbsp) coarse kosher salt
10 ml (2 tsp) coarse ground black pepper
INSTRUCTIONS:
Season the steak with salt and pepper; refrigerate, overnight preferred.
Preheat the ceramic grill to 135-150 °C (275-300 °F). Once target temperature holds, add wood chunks to coals, affix diffuser plate (wrapped in foil for easy clean up) and place grate on diffuser plate.
If using a probe thermometer, put the tip in centre of steak, place steak on grate and close lid. Make sure both the draft door and damper are only open about 2.5 cm (1 in).
Smoke 1 hour while monitoring both the grill temperature (keep below 150°C [300°F]) and steak temperature. Once steak reaches 43°C (110°F) internally, remove probe, remove steak from grill and set aside while you set up The Egg for direct, high heat.
Remove grill grate and set aside. Remove diffuser plate from grill and return grill grate. Open both the damper and draft door all the way for maximum airflow. Close lid to allow grill temperature to rise, targeting 315 °C (600 °F). While grill preheats, wrap the bone of tomahawk in aluminum foil to protect from scorching.
Slowly open grill about 5 cm (2 in), hold the lid in place for 1 second before opening all the way. This is called "burping" and is recommended for safety. Place tomahawk on grate and sear for 1 to 2 minutes on each side or until a dark crust has developed.
Remove from grill to cutting board; rest steak at least 5 minutes. Check internal temperature with thermometer to confirm doneness (54‑57 °C [130-135 °F] for medium rare). Cut ribeye from the bone; slice into 1 cm (1/2 in) slices to serve.
AUTHOR:
Certified Angus Beef ® Test Kitchen
KEYWORDS:
how to cook, how to grill, what is a tomahawk steak, recipe, cooking, grilled, best way to cook, how long to cook
OTHER RECIPES USING THIS CUT